Why Buy Used Stoves?
---
Time for a new stove? Have you considered buying a used appliance instead? You'll pay just a fraction of the new retail price. That can go a long way in keeping your budget in line, even if you go for a better model than you would otherwise.
But you're worried about what you might get. Buying from us takes away those concerns, and you still get a fantastic deal.
Our Services
Rather than driving around and looking at stoves one at a time, then buying from an unknown individual, Appliance Recycler lets you see many options at once. And you'll have a company that backs up the sale. We carefully inspect each item, and make repairs as necessary so you'll have our 90 day warranty.
And we deliver. So there's no need to find someone with a van or truck. We'll also haul away your old appliance. We'll even provide basic hook-up at no charge. There would be a charge if, for example, you need a plug rewired or a new gas hook-up line. But we'll let you know about that in advance.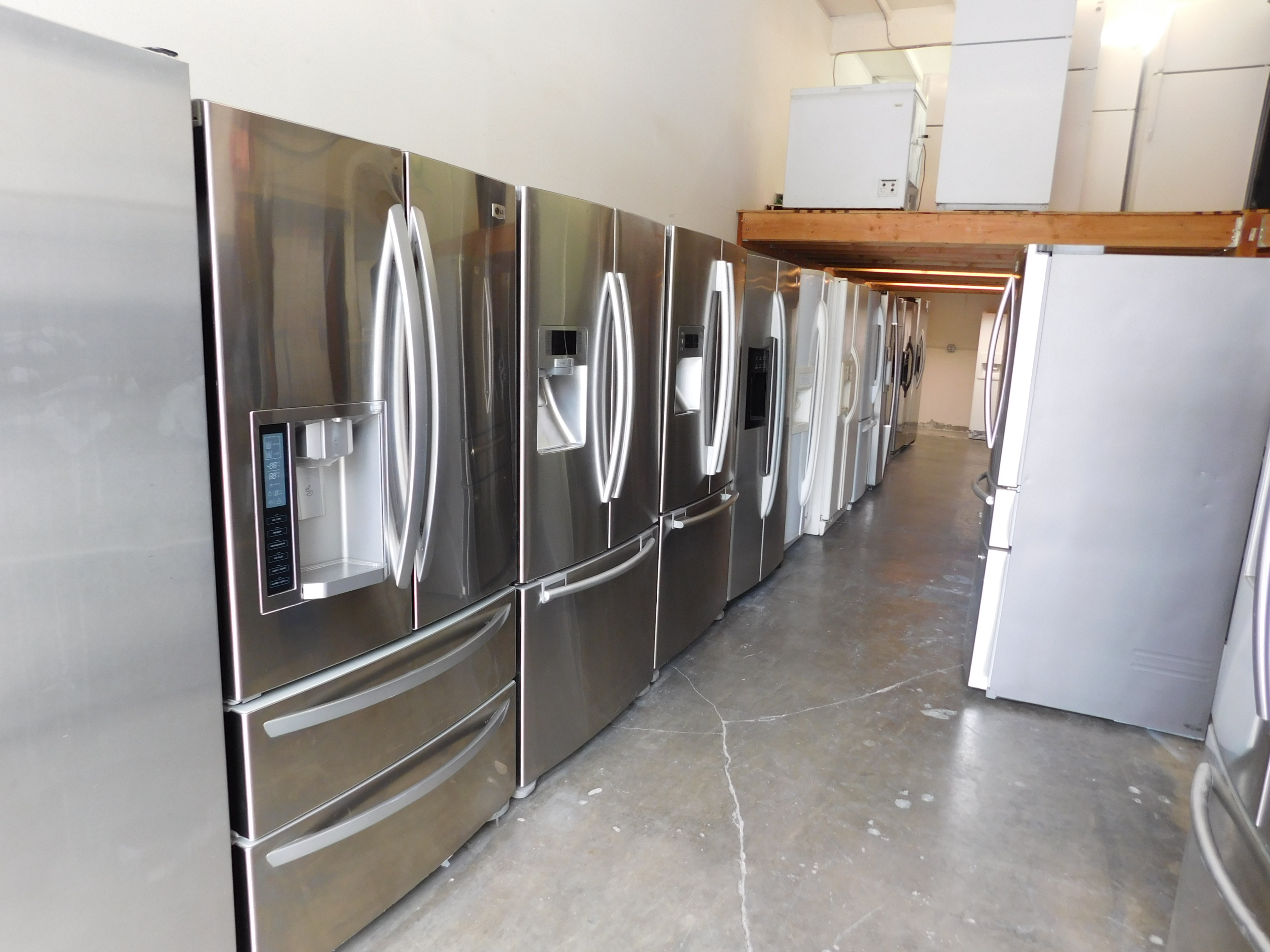 Buy Used Refrigerators
We have stainless steel and Bottom and top freezer refrigerators or freezers starting from 12-14 cubic ft. and up to 27 cubic. You can ad an extended warranty for an additional fee.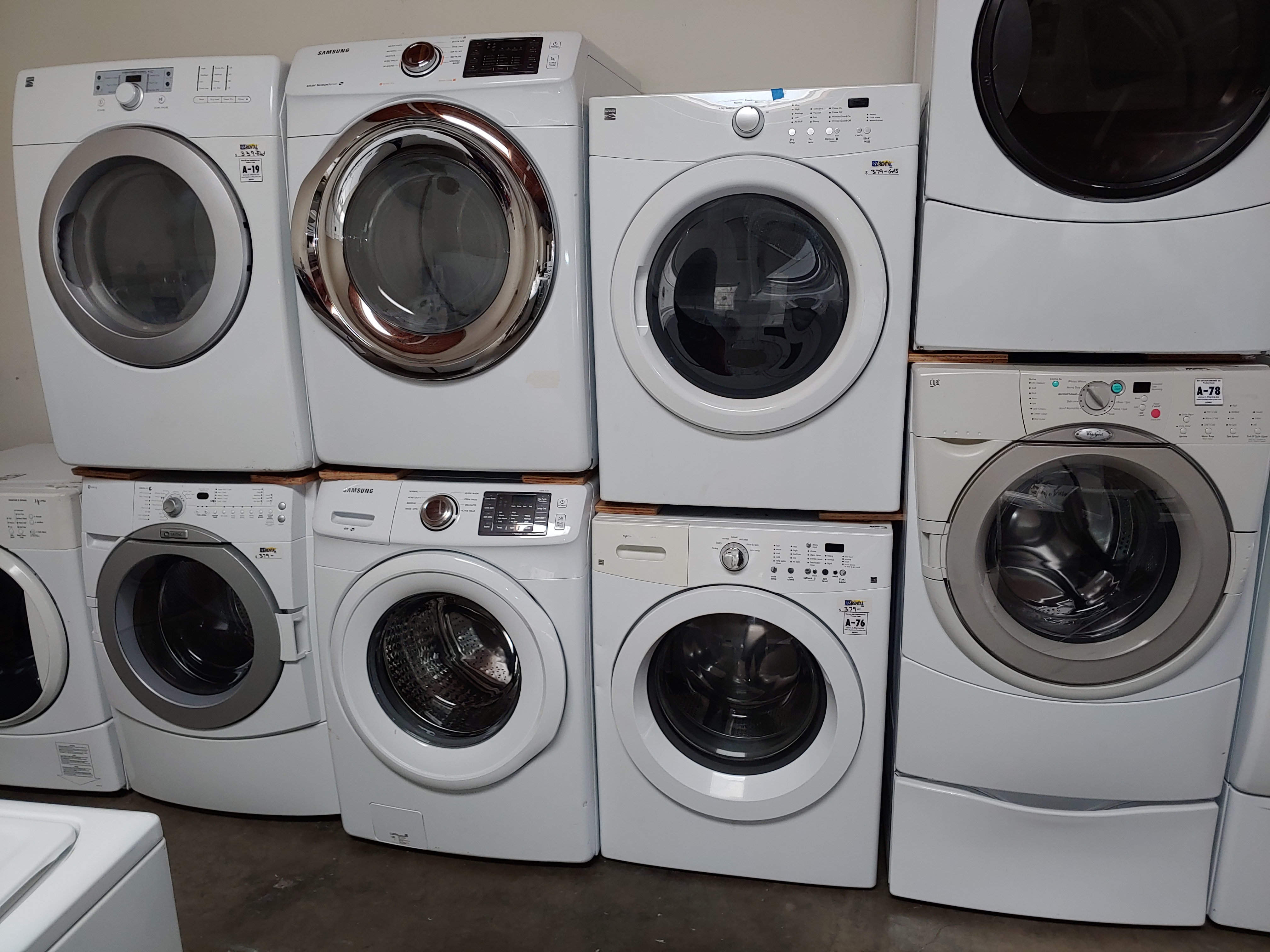 Buy Used Washer & Dryers
Buy a used washer or dryer to save money. Our refurbished washer and dryers come with a 90 day warranty.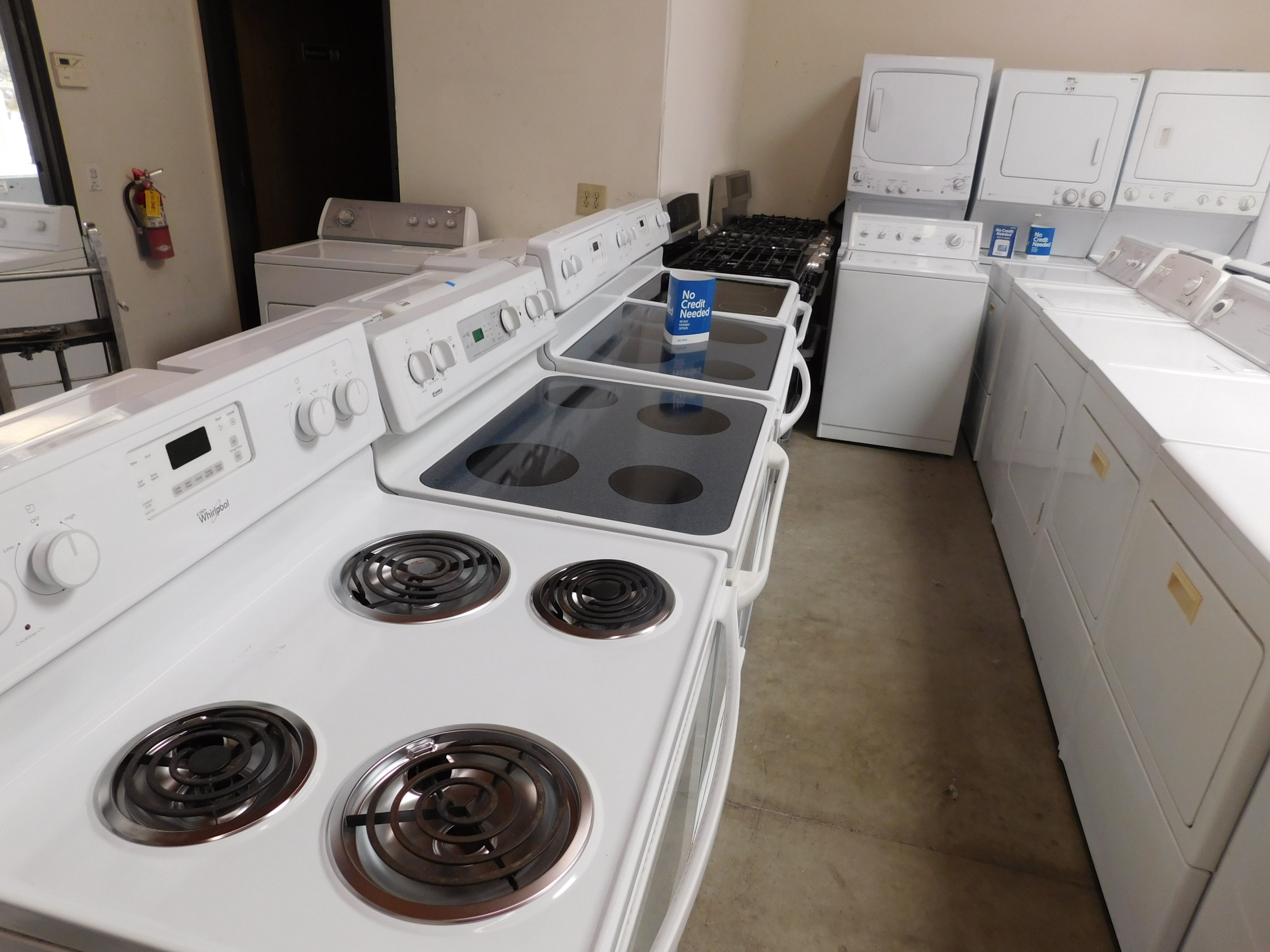 Buy Used Stoves
We sell new and almost new stoves at a very discounted price. We have gas & electric stoves in all colors and sizes. We have apartment manager discounts for 5 or more appliances purchased.
We deliver your appliance to you and can remove your old stove at the same time.
Tips on Buying a Used Stove
---
First, let's get clear on some terms and options.
The oven is where you bake or roast. Double ovens are placed in a wall, so dimensions can be critical.
A stovetop, or cooktop consists of the burners you use for pots and pans. If it's a separate countertop model mounting dimensions can be especially critical.
"Stove" or "range" usually refers to a combination of oven and cooktop as a single freestanding unit.
Old style electric coil burners are less expensive than gas burners, but are slow to heat up and heat less evenly. Chefs use gas cooktops exclusively. They cost more to install but provide the best control of heat. They also have lower utility bills. Smooth glass-ceramic electric cook tops are easier to clean, but prone to scratching. The most advanced electric cooktops use induction heating. Using electro-magnetics only the pot and its contents get hot — the induction heating element itself stays fairly cool. They're fast and energy efficient.
If you're looking beyond the basics you may also want to consider a convection oven. Their moving air heats food faster and more evenly.
Here's our top 5 tips on how to buy stove, oven, or cooktop.
TIP #1 Used refurbished stoves will be like-new where it matters most. They should have a long lifetime remaining yet be far less costly than sales on return, overstock, or discontinued models.
TIP #2 When choosing a particular stove think about what and how you cook. Then focus on what you really need and what would make things better compared to what you currently have.
TIP #3 Cracks in glass-top stoves are not acceptable. They pose a serious electric shock hazard.
TIP #4 If you currently have an electric stove and no gas hook-up in the kitchen adding a line for a gas stove would be expensive. Likewise, upgrading existing wiring to a higher-wattage stove can also be expensive. So avoid surprises by matching your existing hookups.
TIP #5 There are no federal efficiency standards and no Energy Star ratings for stoves. You can make a rough comparison of energy use by looking at electric wattage and gas BTU capacity.
Bonus Tip If the cost of repairs is more than half the cost of replacement it's usually best to go for replacement.
Bonus Tip Before you head out shopping, make measurements and take some photos. Having them with you can be a big help in matching size and in anticipating hook-up issues.