Buy Used Refrigerators
---
Refrigerators and freezers are among the longest-lasting home appliances around.  So buying a used refrigerator to save money is a good idea.  But it's no bargain if problems and repairs soon follow.  We carefully inspect and refurbish what we sell and provide a 90-day warranty.  So there's no need to wait for a sale or worry about buying from an unknown individual. 
TIP: When buying a used refrigerator, stick to those that are less than 10 years old. Not only are they entering a phase where repairs are more likely, they're less efficient and may use up to 1/3 more electricity than newer models.
Points to Consider
When shopping for a used fridge, the first thing to do is to measure the height, width, and depth of the space available. That way you don't get your heart set on something that's simply too big. Also, consider just how much refrigerator and freezer space you really need. Smaller models are generally less expensive.
Then consider the major door options.
Single-door models are pretty rare these days, as they're less efficient and are less convenient when you need to get into the freezer.
Two-door top-freezer models are the most common. But bottom-freezer models tend to have more freezer space, and a slide-out is more convenient. Side-by-side models usually offer even more freezer space and convenience, but take up more floor space.
French-door models have two doors for the refrigerator section and a bottom pull-out freezer section.
In addition to personal preferences, consider that side-by-side and French-door models need less clearance in the front because of their narrower doors.
Finally, consider any accessories you might want or have grown used to having. An ice maker? Water dispenser? Deep shelves? Slide-out shelves? ….
TIP: A warranty of only 30 days suggests that a company doesn't really stand behind your purchase and may be selling whatever comes through their doors.
Most Reliable Brands
You probably already know the leading brands of refrigerators. But you may have been wondering which are the best. We'll, that depends on the size, type, and style you're after. But an informal survey of thousands of sales do suggest which are the most reliable. And that's important when buying used.
The winners: LG, Whirlpool
Runners up: Samsung
Also ranked well: GE, Kenmore, KitchenAid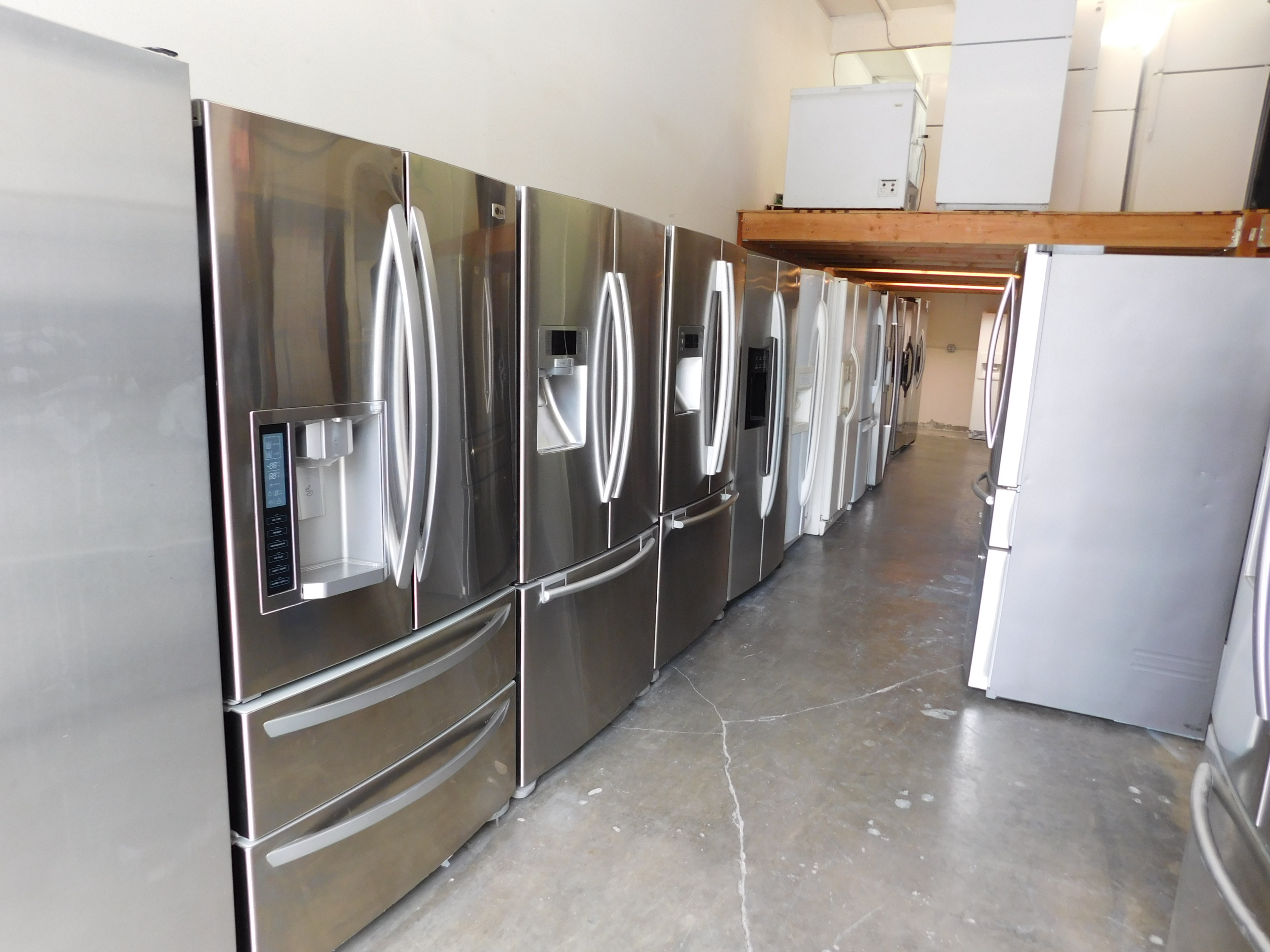 Buy Used Refrigerators
We have stainless steel and Bottom and top freezer refrigerators or freezers starting from 12-14 cubic ft. and up to 27 cubic. You can ad an extended warranty for an additional fee.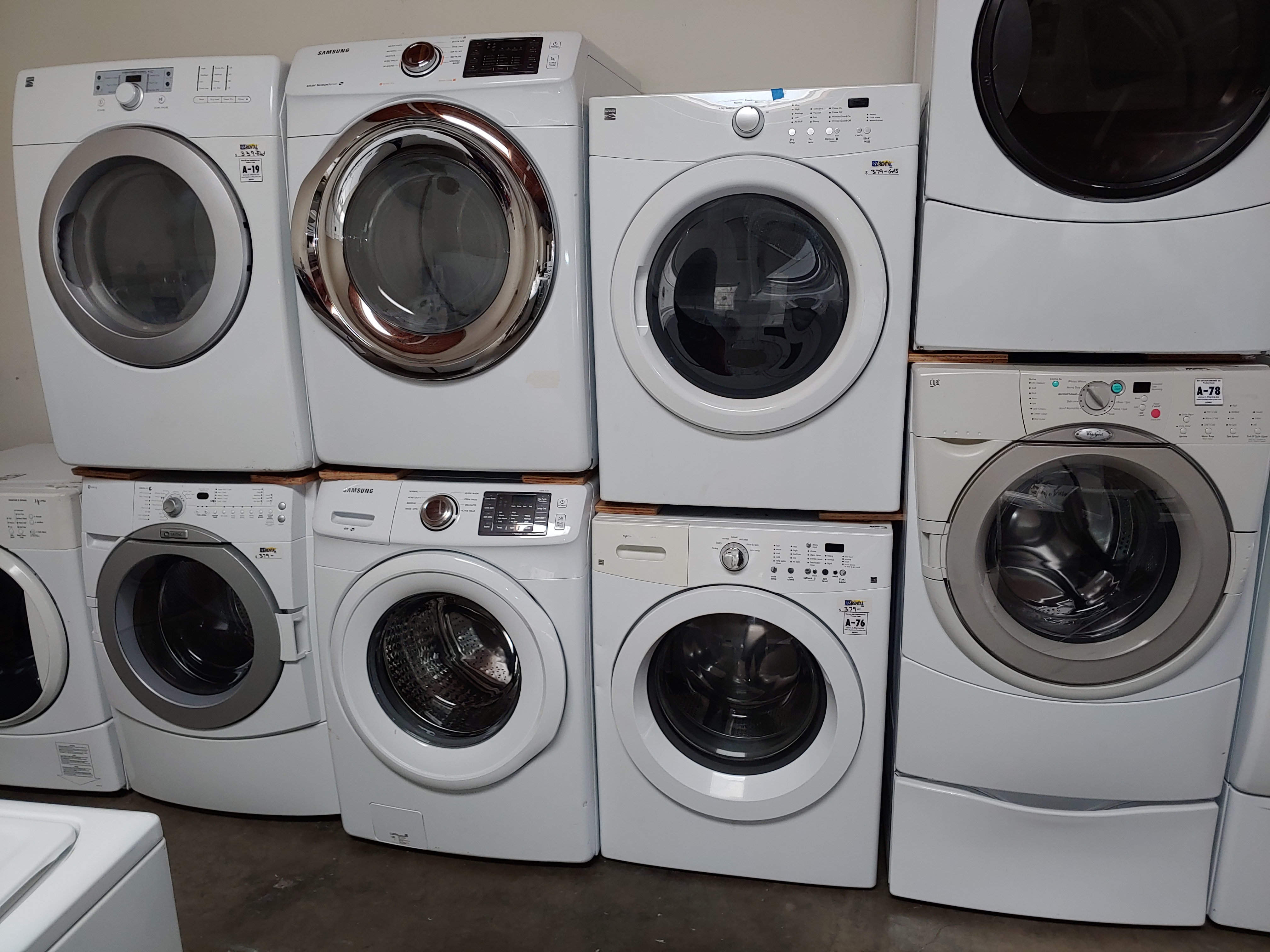 Buy Used Washer & Dryers
Buy a used washer or dryer to save money. Our refurbished washer and dryers come with a 90 day warranty.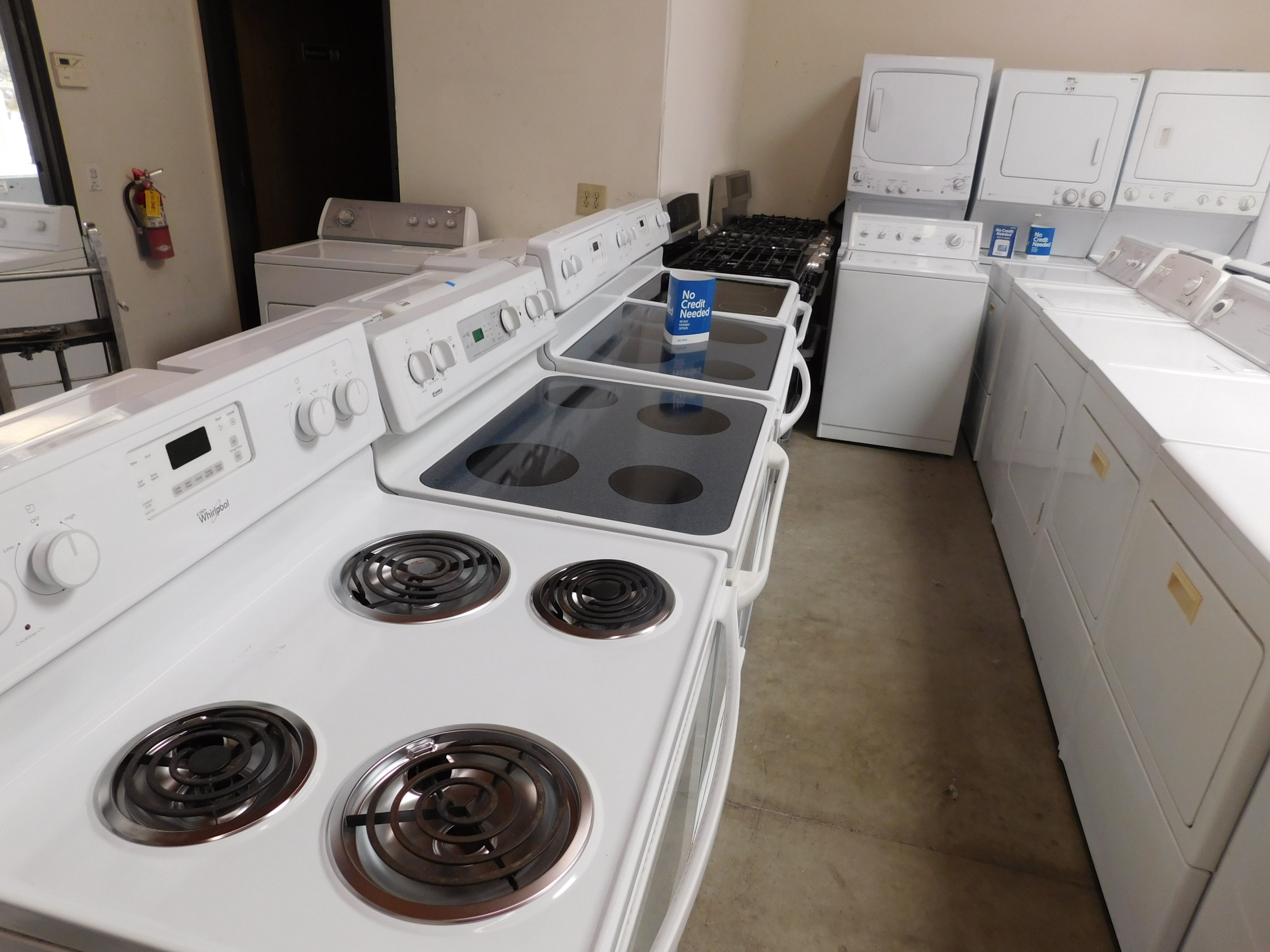 Buy Used Stoves
We sell new and almost new stoves at a very discounted price. We have gas & electric stoves in all colors and sizes. We have apartment manager discounts for 5 or more appliances purchased.
We deliver your appliance to you and can remove your old appliance at the same time.
Our Services
We don't just pass along used appliances. For refrigerators we check temperatures and thermostats, door gaskets, accessories, and more. And we make sure they're clean (and odor free) inside and out (including condenser coils). If repairs are needed for refurbishing we use only top-quality parts.
TIP: Refrigerators and freezers shouldn't be laid horizontally. If that's absolutely unavoidable, let them sit for at least an hour after a return to vertical before plugging them in.
There's no need to find someone with a truck. For your convenience we can deliver to your garage or inside your home. And haul away your old fridge. For an additional charge we can install or replace an ice maker water line.
Tip: Be patient — it can take 12-24 hours for today's models to fully cool down. If by rare chance yours doesn't, you have our warranty!