Buying a Used Washer Dryer
---
Clothes Washers
When buying any clothes washer your first choice is top-loading versus front-loading. Top loading is the most common. These models are more reliable, wash faster, and wash better. They're less expensive to start with and by far less expensive to repair. But front loading models use less water, and are often part of a stacked washer-dryer pair to save space.
Next consider capacity. Compact units have a tub with around half the cubic feet of standard models. For a family, a full-size washing machine is probably the best choice. But being smaller can be a water and energy saver if you commonly do small loads.
Tips for Buying a Used Washer
Whatever size and type you go for, there's a few things you should check out if buying form an individual. If it's not hooked up you can't do a full test, but here are some things you can check.
Does the spin cycle work?
Does the lid safety switch click?
Are there any strange sounds?
Is there any visible rust in the tub?
Any outside damage? That might indicate inside damage.
Although some people suggest buying pre-2010 models for "old-school quality," it's generally recommend that you buy a unit that's 5 years old or less. It's also recommended that you avoid models with fancy electronics or features you'll never use. Also keep in mind that many HE (high efficiency) models need HE rated laundry detergent to avoid problems.
Washers are surprisingly heavy (around 200 pounds) and can be difficult to move. Since there's various places that water may still be trapped, it's best to keep them vertical during moving.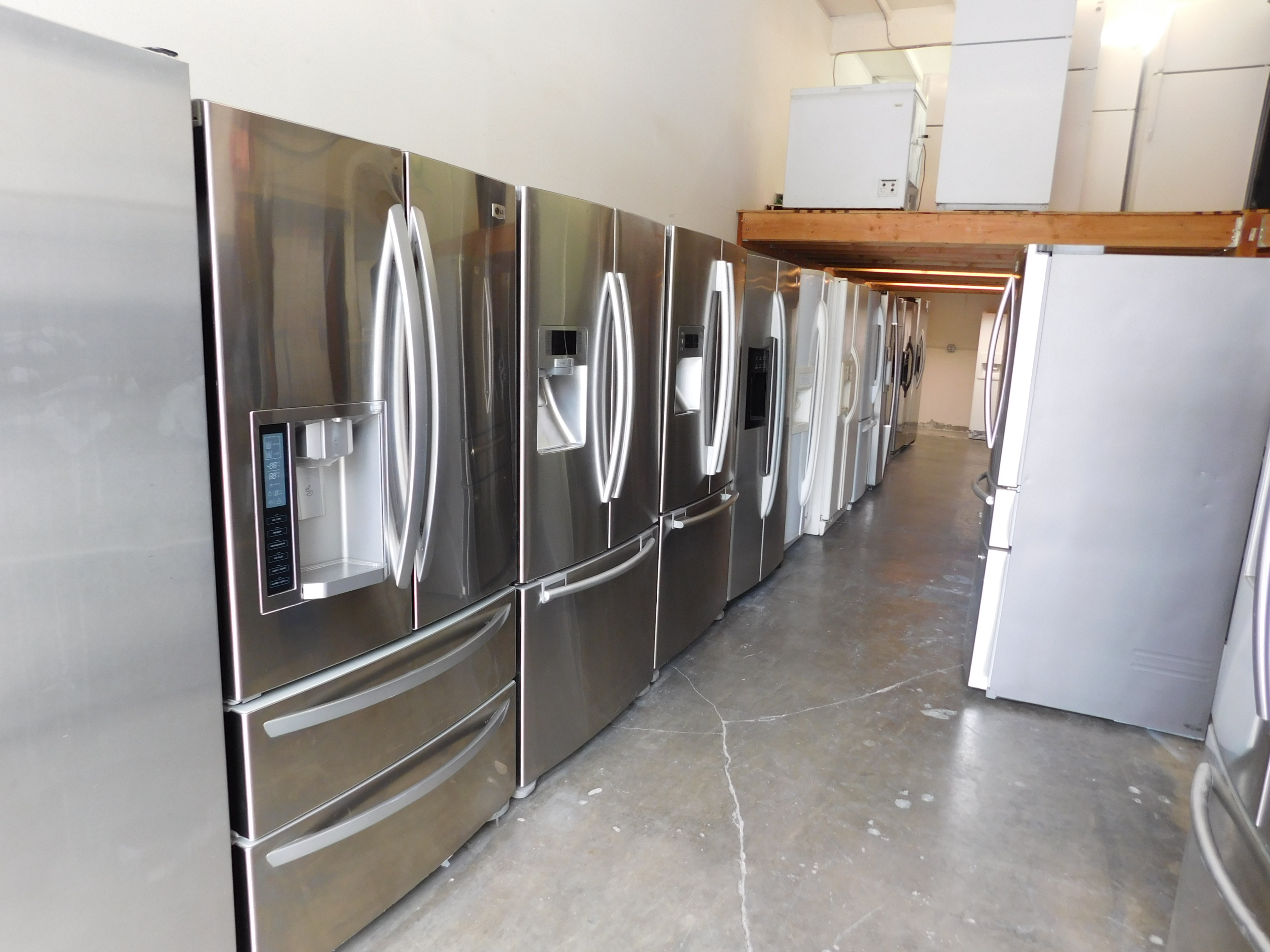 New & Used Refrigerators
We sell new and like new and used refrigerators and freezers at discounted pricing with a 90 day to 1 year warranty. We have stainless steel and Bottom and top freezer refrigerators or freezers starting from 12-14 cubic ft. and up to 27 cubic. You can ad an extended warranty for an additional fee. We even have refrigerators starting at $99 and we'll pick it up free when your done if within 60 days of your purchase in case you only need it short term.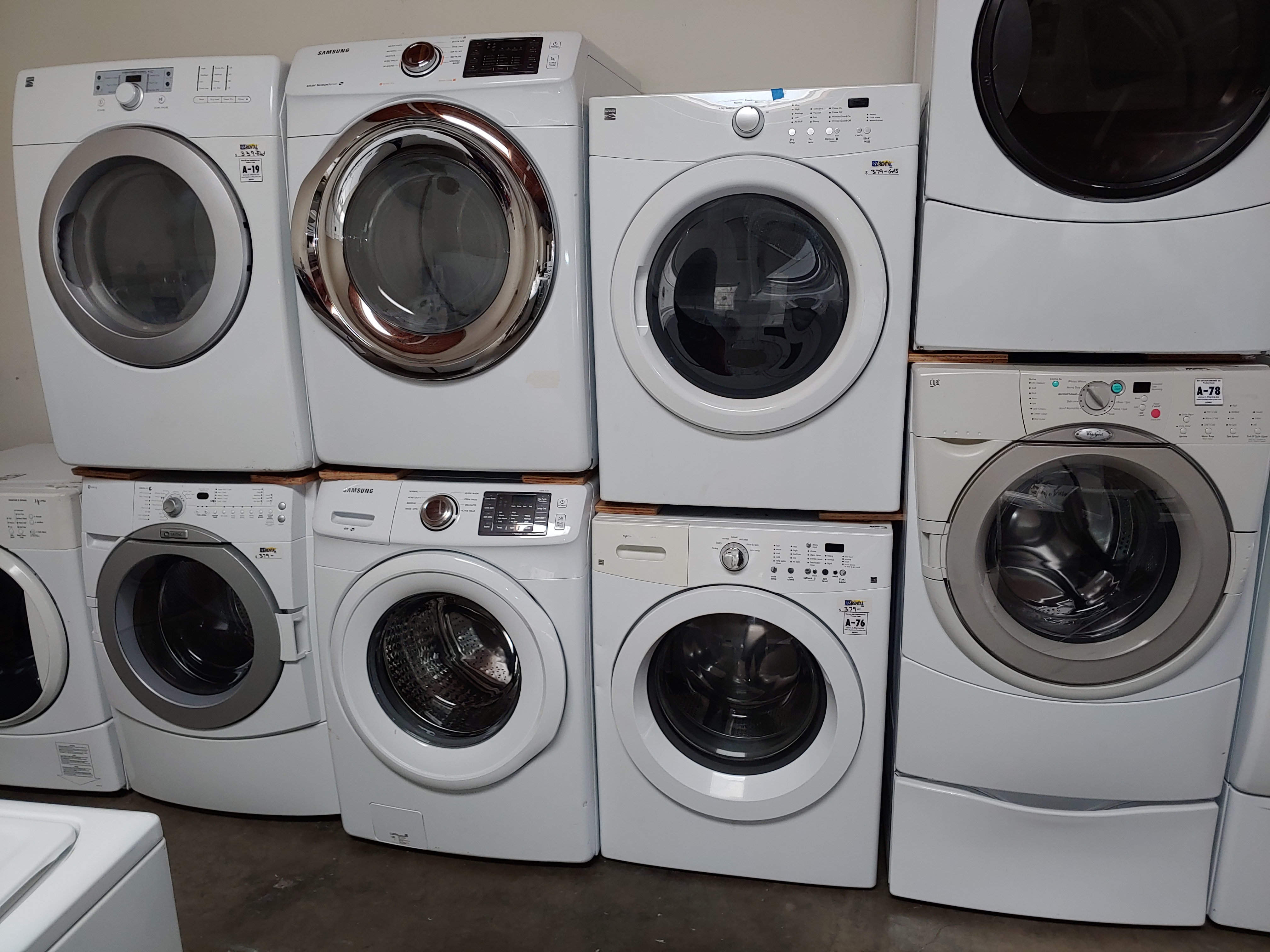 New & Used Washer & Dryers
Buy a used washer or dryer to save money. Our refurbished washer and dryers come with a 90 day warranty.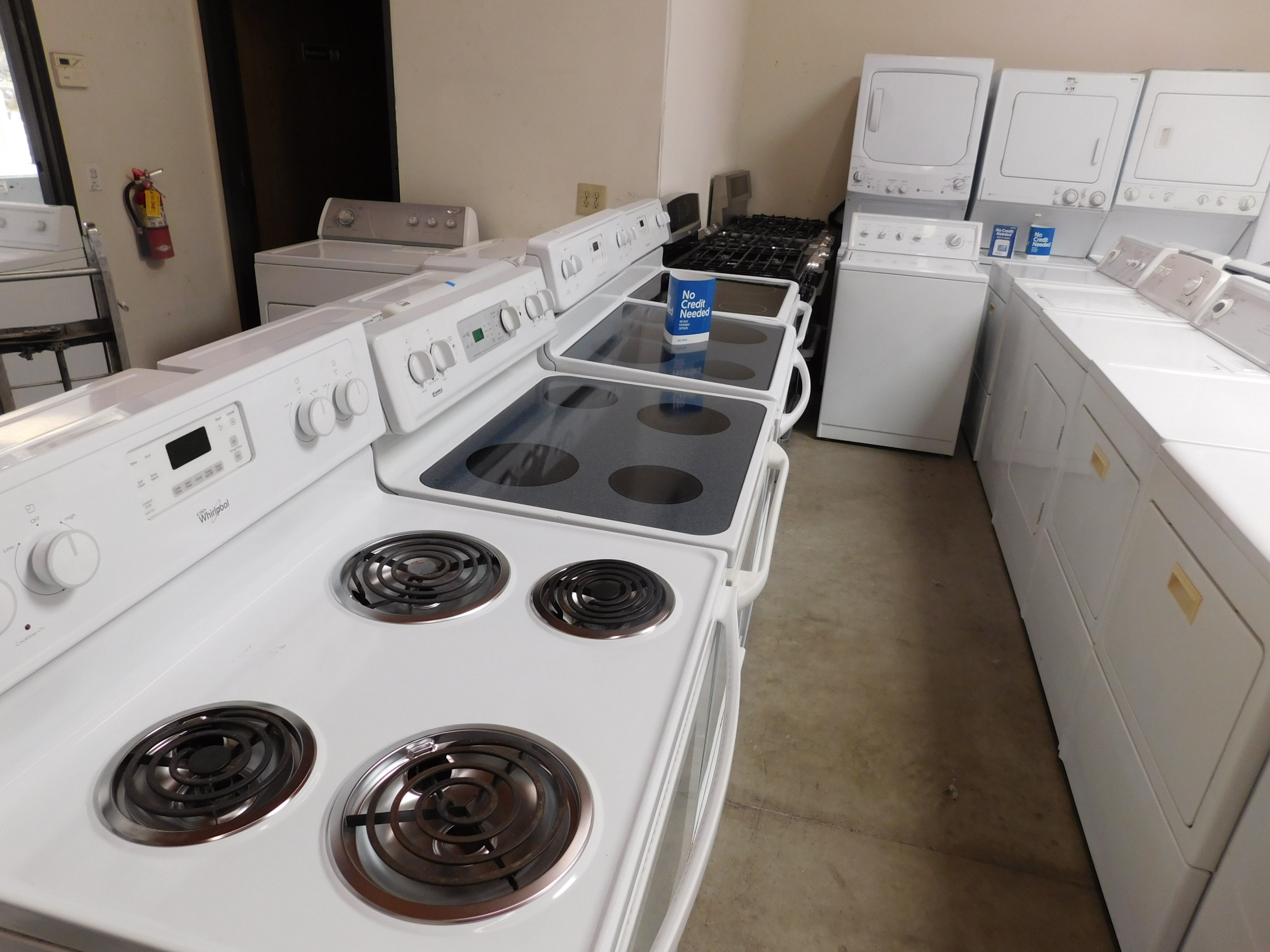 New & Used Stoves
We sell new and almost new stoves at a very discounted price. We have gas & electric stoves in all colors and sizes. We have apartment manager discounts for 5 or more appliances purchased. All new items come with a 1 year manufacturer warranty and used items 90 day's parts & labor warranty.
Used Dryer Tips
---
Clothes dryers are simpler and longer lasting than washers, so you should have even fewer concerns buying used. Again, there's two basic sizes with compact models about half the capacity of standard sizes. And that's fine if you mostly do small loads.
The biggest choice is gas versus electric. Gas models cost far less to operate, but adding a gas line and hook up where you need it can be very costly. So you'll probably want to stick with whichever you already have. Energy efficiency is important, especially for electric dryers. Paying more for a HE or Energy Star rated model should be more than made up in utility bill savings, even for brand new units.
Models with moisture or dryness sensors typically use less energy than those with a timer only. It's also important that you choose one that has all the temperature and fabric options that you need. Beyond that more features may be extra cost with no extra benefit.
More Used Dryer Tips
Before you start using it, clean out all lint that's accumulated inside the dryer mechanism.
There are 4 different types of electric dryer plugs and wall sockets. Get one that matches the socket in your home. If there's a mismatch it's usually less expensive and easier to replace the cord and plug on the dryer.
For moving, dryers weight about 100 pounds and can be transported upright or on their side.
Brands
---
Most repairmen would list Inglis, Kenmore, Kirkland, Kitchen Aid, and Whirlpool washer dryers as being the least likely to break down and the least expensive to repair. They work well and they're less expensive to purchase. What do these brands have in common? They're all actually manufactured by Whirlpool, who has been in the business since 1949. Except for front-load washers and stack-able dryers.
Other leading brands include LG, Maytag, and Samsung.
Our Services
---
Rather than going from one person's house to another looking at used washers and dryers, we let you shop at one place. And there's no worries. When we recycle we inspect and refurbish with cleaning, repairs, and paint touch-up to give you a 90-day warranty. We deliver, so there's no problem finding a truck. And we can set up your washer and/or dryer then haul away the old.